The team at Taddie's Tales is hoping everyone is staying safe in these strange times of the Coronavirus Outbreak. The extra time at home has allowed me to make several improvements to the game both structurally and cosmetically. Amid all of the chaos due to COVID-19 one of the few bright spots might be the amount of creative projects that emerge with more work. This statement is being eternally optimistic as I am obviously not happy with the loss of life or social chaos.
We currently sit with twenty completed levels across three worlds. Maytch has made some amazing artwork for the second world boss, but it will not be shared yet! I have to keep some things a secret/not visible! I have added two water levels into the game. The addition of these water levels is heavily inspired by the excellent water levels in SNES platformers such as Donkey Kong Country and Super Mario World.
Don't Touch The "Water"!
I spent a full day taking new screen shots and videos in order to have content for this website as well as social media. It is surprisingly time consuming capturing footage, chopping it up, turning it into GIF's, rendering, etc; Although it is time consuming busy work, it is necessary in order to try and give people visuals of the game and hopefully spark interest across our various social media channels. This is all done to hopefully generate interest for our next demo. The current demo that can be downloaded is very dated, the controls are much more ridged, we have made countless improvements since it's uploading. We are very excited to share the new demo with the world when it is ready.
Wall jumping has been in Taddie's Tales for quite some time, however we recently implemented a wall jumping animation. In addition to wall jumping, Taddie can slide down a wall with physics slowing her down. I feel like this is a very nice touch that positively impact game feel and the control of Taddie. Below is footage showing the difference between the previous wall jumping and one in the current build of the game.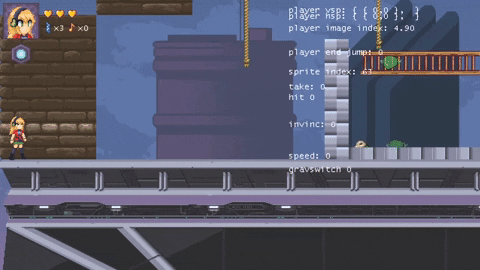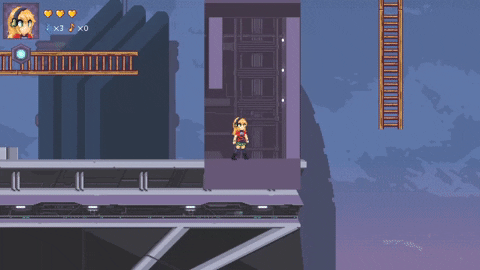 I have recently dabbled in a collaboration with a close friend making some synth wave style tracks. It has been very fun and it is a joy to collaborate with someone again musically. Taddie's Tales was originally built for me to have a project to put music into. In some ways I have been scoring this game for eleven years, since I began making music on the computer. In some ways I have been scoring this game since I started enjoying video games, which is much longer than eleven years ago. I have no doubt that this musical collaboration with my friend will result in a riff, melody, or concept that finds its way into the score for Taddie's Tales.
There will be much more content from Taddie's Tales being posted on social media. I am using the extra time off of work from COVID-19 to put more and more into the game. Wall jumps have been improved, water levels are added, bugs are being fixed, code is being optimized! The team here is still working hard to make the best video game we can. I really look forward to the day we have a completed project that we can share with the world. Stay safe everyone!