It is crazy to think the last time I posted an entry on here was in March. I feel like it is a constant sin in the indie dev world for the development blog to fall to the wayside. I am sorry for the infrequent posting for anyone who takes the time to read these. Work has been done on Taddie's Tales over the past few months. I will do my best in this entry to bring everyone up to speed on what has went on the past few months as well as what we are planning going forward.
WORLD 5
We have introduced a new double jump mechanic that Taddie will unlock in World 5. The combination of teleports, wall jumps, and now double jumps will allow really interesting movement in World 5. Below is an example of the double jump being utilized with some test enemies from World 1.
I have yet to decide on a musical direction for World 5 but I am extremely happy with the art style Maytch has put forward. The music for World 5 needs to feel and epic and triumphant and is it is the final World 5 in the game.
Speaking of music. I added a ton of tracks to the game. World 1 had three tracks that played in 1-1, 1-2, and 1-3. They then looped through the same order in 1-4, 1-5, and 1-6. I was not happy with that. It was really satisfying to add more music to the game. I should make an entry on my music process one day to display my secrets. My ultimate secret is to make sure you back up your files! You never know when something you composed long ago will come in handy. I am fortunate to have over 10 years of musical compositions that I can reference or use at all times.
This back up process allowed me to participate in a Game Jam with Pixel Trash recently. I am super proud of him as he ended up winning first place in the Game Jam. I provided the title track for the game. The process of making it was sort of hectic but exhilarating. I missed a message on Twitter that would have notified me of the jam. On a Friday night, before having to leave on a Saturday morning, I chopped up an old track that I thought would fit perfectly with the dark and rainy theme of the jam. I sent six tracks and he selected one to use for the title. If you would like to check out the game for yourself click here .
MINI GAMES
As stated in previous blog, I made a puzzle mini game for Taddie's Tales. I recently began working on a music note mini game. The dynamics of the game are extremely pinned to the notation of the track I made for testing. Maytch created some really neat animations of Taddie dancing which I think will alter the idea I had for the game. This will allow me to try and make a rhythmic song where the mini game will not be as note by note styled and pinned more to the overall feeling of the song. Below is a rough preview of what the first iteration of the music mini game looked like.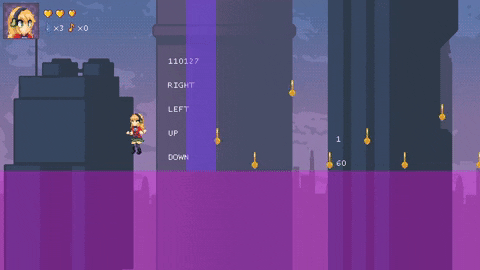 I built a very fleshed out demo of Taddie's Tales that I provided to a few testers who have been with me since the beginning. The feedback they were able to provide was crucial in changing some game feel elements for the better. I have once again altered wall jumping as I am still trying to find the perfect feel for it. It is embarrassing to admit, but there are still some things in the code for the game that cause issues. When I began this project my coding skills were not nearly as good, the project has grown so much, there are blocks of code in different areas that can effect code in other areas. This is obviously not always ideal, but I have a fairly good sense of what's going on and can run little checks to suss out issues. We are far too late in the game to re-code everything.
I have started a new job which I am incredibly grateful for. I still do not have an exact release date for this game but I hope to one day. I can promise that when this game comes out it will be fully finished. I do not plan on releasing a half made project. Taddie's Tales has taken time, but I am hoping when it is all said and done it will be worth it. I want bonus levels, mini games, a world map, a hub world... I want a connected experience that makes you want to beat levels and see what is coming next. I want the bonus levels to be a challenging foray for anyone who enjoys the experience of the main game. It is time to work on World 5. I will hopefully not wait four months to post my next update. Thank you to anyone who took the time to read this.